Touchscreen Hire Made Easy With One World Rental
One World Rental provides a simple and cost-effective solution to this problem. As a leading provider of touch screen rental for events in the USA, One World Rental offers an extensive range of devices that can be rented for short or long-term periods. Our touch screen rental solutions are perfect for event organizers who want to provide an engaging and interactive experience to their attendees without the added expense of purchasing devices.

Organizing a successful event requires careful planning and execution, and technology plays a crucial role in the success of any event. If an event organizer invests in the latest touch screen devices, they may need to gain the necessary expertise to manage them. The devices need to be configured correctly, and technical issues can arise, which can be a significant source of stress for the organizers. Additionally, event organizers often require devices for a short period, making it challenging to justify the investment required to purchase them.
You can deliver engaging presentations and allow your audience to participate actively by utilizing interactive touch screens at your event. With the ability to interact with data by selecting specific parts of an image or text, attendees can have a personalized experience that leaves them feeling more involved in the event. This technology creates an immersive experience that encourages engagement and enhances the overall impact of your event.

Contact us today to inquire about our touch screen rental services. Our team is available 24/7 and can assist you in finding the perfect solution that meets your event or temporary office needs while also providing competitive pricing. Our knowledgeable, professional, and friendly customer service representatives are eager to hear about your upcoming event or project. Don't hesitate to reach out to us!
Engage Your Viewers With Interactive Touch Screen Rental Equipment, Available Across the USA
One World Rental provides our clients with the opportunity to rent the latest powerful touch screen models; an integrated solution that provides immersive digital experiences for your guests. Rent our touch screens in any volume. They are suitable for a range of events including:
corporate conferences
temporary offices
annual meetings
training seminars
educational hubs
product launches
workshops
interactive seminars
presentations
Event touch screen rental applications
The physical interaction inherit in touch screen technology can't help but draw in guests and event attendees. There are a number of ways to captivate and increase participation. Place touch screens at key stations throughout an event that will act as guides or kiosks, displaying interactive documents, maps, event schedules, image galleries, infographics and more. In this way they can function as self-service information kiosks. Guests can find the information they need at a pace that best suits them.
Improve presentations by getting hands-on with your visual content, zoom in and out of charts and graphs and share slides in a completely interactive way. Guests can respond via software apps on tablets, as well as take notes, voting, answer questions and respond to surveys.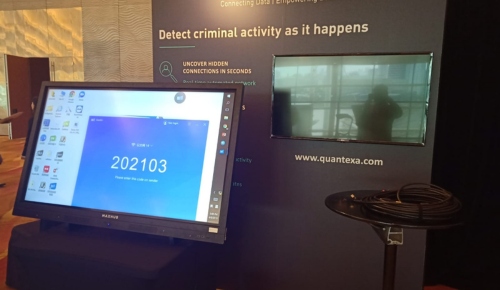 Other applications? Try touch screens for lead capture and event registration using any of our iPad rentals. Sync signatures and email addresses, encourage guests to share on social media, and advertise prizes and contests via tablets. We even have app developer partners who can design applications for your event check-in that is completely branded to your business.
Touch screens and more
Our range of touch screen rental products will create a powerful impact at your trade shows, seminars and corporate events. They offer high image resolution and are lightweight, with a space-saving design that can project large-scale images. Upon request, we can upload multi-media files to each device, so they are available for use on the day. Our technicians will come to your location and set-up the screens according to spec.
Need a bit more from our team? We can handle just about every aspect of an event including project management, logistics, delivery, installation, packing up, technical event staff services, internet installation, and software. There is really very little we can't assist with!
Also check out our full range of hardware including Audio-Visual, POS devices, iPads, iMacs, mobiles, monitors, Virtual Reality equipment, cables, and much more.
If you would like to find out more on touch screen rental products for events and exhibitions contact us today for a free full consultation and competitive quote.
Hire Touch Screen and Make Your Event Interactive
looking to boost your attendees' experience, touch screen technology can be a game-changer. With touch screen rental, you can create interactive displays, provide real-time information, and engage your audience in new and exciting ways. However, investing in the latest touchscreen devices can be expensive, and purchasing them for a one-time event may not make sense. That's where One World Rental comes in. As a leading provider of touch screen rental solutions, we offer a comprehensive range of devices that can be rented for short or long-term periods.

Our touch screen rental solutions are perfect for event organizers who want to provide an engaging and interactive experience to their attendees without the added expense of purchasing devices. With One World Rental, you can hire touch screens and make your event interactive, engaging, and unforgettable.

Hire Touch Screen and Make Your Event Interactive
As specialists in large-scale, fully managed touchscreen rental projects, we work closely with event organizers, event managers, and marketing agencies to deliver projects throughout the USA. We offer flexible touch screen rental solutions catering to your needs and budget. Whether you require a touch screen for the short-term or long-term, we have various options available to accommodate your requirements.

From daily rentals to year-long leases, we are committed to providing affordable touch screen rental services that meet your needs. With one of the largest touchscreen rental inventories in the USA, we are the perfect partner for projects involving multiple touchscreens and interactive software, ensuring a seamless and successful event.
Why Choose One World Rental 
One World Rental is committed to providing the best rental solutions for touch screen hire in the USA, specifically for events. Our team works closely with event organizers to customize the technology to fit the specific requirements of each event, regardless of size or scope. We recognize that every event is unique and offer various options for our touch screen rental services.

We understand the significance of having dependable and state-of-the-art event technology. That is why we provide various IT rental services, including Mac and Android rentals, wireless networking, and satellite internet. We aim to ensure your event runs seamlessly and efficiently without any interruption.
What Our Customers Say About Us
"We required more IT equipment than usual for our event and decided to use One World Rental for our touch screen needs. The rental kit matched our specifications, and the competitive pricing and ability to deliver at short notice were impressive. One World Rental provided great customer service, and we found them easy to deal with. We highly recommend One World Rental to other businesses and will use them again."