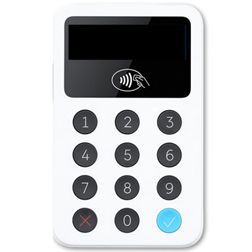 IZETTLE PAYMENT TERMINALS
This device allows you to take card payments, contactless or through chip and pin. Accepts all major cards, connects to device using Bluetooth connectivity.
Works with iOS or Android.
This system works with iZettle, NoblyPOS and iKentoo POS software.
Can be used with iZettle Cradle, which is a dock for the iZettle payment terminal this charges device when in dock.
Payment terminal can take 1000 payments from a fully charged device.