24-hour deployment of Remote Working IT. Laptops, monitors, remote phone extensions, and accessories in any
volume. Fully preloaded software, safe delivery practices.
We provide state-of-the-art event technology solutions for digital events and corporate conferences throughout the United States.
At One World Rental, Microsoft Surface Pro rental is just one of the options available. We offer the latest hardware and software options, delivery, installation, logistics, technical staffing and Wi-Fi experts. The Surface Pro 4 and 5 tablets are frequently requested for events and exhibitions. Like most of our stock, you can rent these in any volume, regardless of the size and scale of your event. We enjoy the Surface Pro because it's fully adaptable and has an interactive touchscreen feature.
Microsoft Surface Pro 4 hire- the benefits
The Surface Pro is popular for a reason. Why? It functions as three devices in one; these include a laptop, tablet and creative studio. Take advantage of its touchscreen features for a tablet experience that's interactive. Add the Microsoft Surface Pro Keyboard and it becomes a powerful business laptop. Rent the Microsoft Surface Pro Pen to enhance your experience with it as a creative studio.
Versatility is just one of the benefits- there are many others. The Microsoft Surface Pro rental is powerful. It comes with an Intel Core i5 processor, and 128GB SSD. It also goes the distance- with a battery that will outlast even the longest conferences and business events.
And workflow? It's never been smoother- with file sharing via touch and an intuitive platform that does the work for you. Clients enjoy the PixelSense Display with low glare and great contrast. Screen resolution is another bonus, with 2736 x 1824 pixels- a wonder in high-resolution.
The latest innovative, high performing and powerful Microsoft Surface Pro is available for short term rental for:
Business meetings
Workshops
Online presentations
Interactive seminars
Microsoft Surface Pro 4 hire accessories and bespoke software
The Microsoft Surface Pro 4 and 5 tablets can be rented with all the additional accessories, so you have everything you need to deliver the ultimate user experience. Also discover our broad range of software that can be pre-installed by our technical event staff. We work closely with our developer partners and can offer specialised apps focusing on event registration and check-in, live polling and voting, fundraising, lead capture, games, conference apps and surveys.
Or discover what we can add in terms of data collection, live seminars, charity auctions and market research. Our software capabilities are limited only by your imagination. When you speak with our staff, we can discuss your event requirements and recommend the best software options and accessories. Click here to rent microsoft surface pro in UK
If you would like more information regarding our Microsoft Surface Pro package or any of our event related services, contact us today for a free full consultation and competitive quote.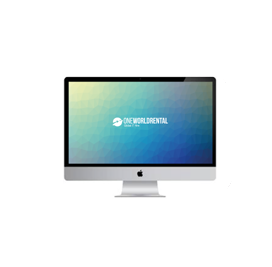 DON'T FORGET
We can also deliver any volume of iMacs globally; we can fully customise the device so it's fit for purpose.They come with the standard applications and we also carry all of the relevant Apple accessories.