24-hour deployment of Remote Working IT. Laptops, monitors, remote phone extensions, and accessories in any
volume. Fully preloaded software, safe delivery practices.
One World Rental now offers Giant iTab hire.
This extra-large, multiple award-winning touchscreen display is ready for shipment to your next event. We couldn't be more thrilled about offering our clients this larger-than-life giant iPhone display. We've partnered with Giant iTab to provide you with Giant iTab hire, coupled with our incredible service, delivery, and setup, anywhere in the world.
What is a Giant iTab?
A Giant iTab (also referred to interchangeably as a giant iPad display or giant iPhone display) looks a bit like an enormous smartphone, or a mega-sized tablet. The size of a Giant iTab is compelling and interesting- they tend to attract instant engagement and interaction; which is exactly what you want at an event.
The best part about the giant iPad display is how intuitive they are- your guests already know how to use them, because the interface mimics that of an iPad, iPhone, or Android tablet. (Only bigger!)
AV Magazine states, 'This intuitive technology is incredibly easy to use just like a giant iPhone or giant iPad'. We couldn't have put it better ourselves!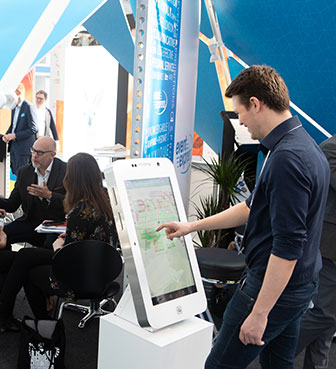 How does a Giant iTab work?
Another reason that our giant iPhone display is trending so quickly is its ease of use. The technology mimics a smartphone so navigation doesn't require training or explanation. We can load all of your digital content onto it- We'll setup and integrate apps, menus, and additional software so that upon delivery it's ready-to-use.
One World Rental is also happy to deliver your giant tablet anywhere in the United States (or globally), with as little as 24 hours' notice. Our global office locations enable quick deployment for all of your last-minute giant tablet marketing needs.
About Giant iTab rental.
Giant iTab (or Giant iPad rental) is simple at One World Rental. Our customer service team works around the clock, seven days per week, and can help you with a free consultation and quote upon request. We rent the giant tablet for a variety of events such as exhibitions, conferences, education, training, gaming, retail, banking sectors, and for presentations.
Giant iTab rental can showcase any iOS apps or apps from the Google Play Store (which hosts a variety of teaching and third-party training apps). Teaching games and software have helped with training and educational workshops in both the public and corporate sectors.
Giant iTab rental showcases mobile apps and websites perfectly, in an easy-to-view format that lends itself to presentations and events within the software development sector. App content developers can experiment with new products through Giant iTab hire by simply swiping, pinching, and touching the screen with the same gestures as that of a smartphone or iPad. Group testing and product presentation have never been easier!
Giant iPad hire is also popular in the hospitality sector. They make excellent digital concierge solutions and can be used by guests to quickly access information such as event apps, interactive floor plans, timetables, photo galleries, contests, surveys, and more. When you rent giant iTab products, guests can use them to place orders or experience presentations.
Giant tablet devices are great for broadcasts and live presentations because their interactive screen is versatile, and the display quality is perfect for speeches, pictures, videos, and live streaming. Broadcasters are using them live on air for television shows and digital seminars.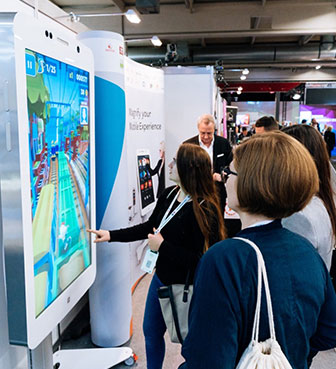 Giant tablet products is used in the retail sector.
When a bank wants customers to migrate from storefront to mobile and online banking, how do they convince their clientele? Businesses can rent Giant iTab devices, showcase them in their lobby, and introduce customers to the ease of their newest desktop and mobile banking software via 'dummy accounts'. The learning experience is smooth because the technology and interface replicate the touchscreen smartphone or tablet.
Giant iTab products are great for wayfinding and exhibitor stands.
Giant iTabs work great for showcasing event apps. Visitors can engage with giant iPhone displays, which provide information such as interactive floor plans and seating charts, VIP area locations, additional show content, maps to exhibitors, and more. Exhibitors use them frequently for part of their display, as they help showcase their own digital assets and marketing information in a friendly, approachable way. Rent Giant iTab solutions for a variety of reasons such as to attract, engage or inform your audience. One thing is certain, this is digital signage that guests are unable to resist.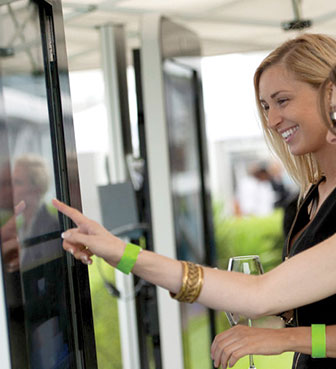 The giant iPad display and our additional services and IT.
The giant iPad display is more popular than ever and with good reason. It has a simple, minimalistic iPad-like appeal, the replicated interface (that guests already know how to use,) can rotate to a portrait or landscape presentation, and it offers a 1920 X 1080 Full HD display for high-definition presentations.
As well as the Giant iTab, we also hire all of the usual hardware options including Audio-Visual equipment, EPOS payment systems, printers, Virtual-Reality kit, digital signage, smartphones, desktops, monitors, and anything else you could need for a corporate event, training or festival. We provide high-quality technical staffing services and Wi-Fi Network Engineers who can install a variety of internet solutions. This new product simply helps us expand what we offer, which is a total event solution that will continue to incorporate the latest and greatest award-winning products such as the Giant iTab.
Interested in hiring any of our event hardware or services? Contact One World Rental anytime, 24/7 and our customer service team will provide a free consultation and quote.