24-hour deployment of Remote Working IT. Laptops, monitors, remote phone extensions, and accessories in any
volume. Fully preloaded software, safe delivery practices.
All the accessories you need for your next event.
What kind of accessories do you require for your next event? Details matter, and we carry a range of technical accessories that will optimise both your equipment and the digital experience itself.
One World Rental offers a variety of options, including iPad cases (which can be branded), Heckler and MoonBase stands, keyboards, cables, Kensington locks, SIM cards, and iPad straps. We have the latest Apple Pencils and Stylus Pro and Surface Pro Pens. Need a consistent charge? We have powerbanks and multiple device charge buses to ensure that your guests have more than enough battery. We also offer adaptors, such as Lightning to HDMI adapters, 30 Pin to HDMI Adapters and 30 Pin to VGA Adapters. Whatever the event-related accessory, One World Rental is here to help.
Branded iPad cases for event and promotional marketing.
One way to promote your brand is with customized iPad cases. Branded equipment sends a strong, professional message about the calibre of your business. Market your message effectively without saying a word; ask us how we can help to create an equipment package that includes branded cases. Also enquire about our bespoke software and menu options.
Beyond accessories: our full event service solutions.
One World Rental has a team of technical staff who can get your equipment fully prepped so it's ready to use on the day. What does this mean?
Our team will upload the right software, provide fully branded equipment cases and displays with your business event logo, and even create custom built software such as event check-in and registration apps and menu-building. We can offer an on-site technical presence throughout the entire event. This often gives event planners peace of mind, as we can attend to any technical glitches or Wi-Fi issues that may arise.
Take a look at some of our product range below, including cables, 4G SIM cards and bespoke branded cases for events and exhibitions.
A range of cables available for hire.
One World Rental has all the key accessories to support your equipment for exhibitions, conferences, festivals and training seminars. See our full product list below, ranging from the Apple Lightening Cable (a basic requirement for all Apple devices) to VGA cables- which can be used to connect compatible devices to laptops and Audio-Visual products, to Fiber-Optic and Cat /6 cables. We also have HDMI cables, which transmit audio and video from a device to a television in high definition (1080p and 4K).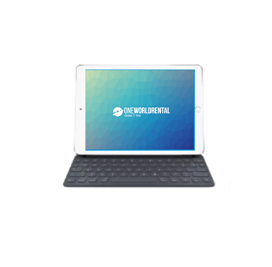 DON'T FORGET
We have the versatile Surface Pro i5 available for hire!
The Surface Pro delivers exceptional power and performance, it is lightweight and fully portable making this the perfect product for delivering interactive presentations or training seminars.